"I think originally – it sounds really bad – I was telling myself: 'It's not going to happen,'" says the England left-back Alex Greenwood on Casey Stoney's first contact with her as the Manchester United manager.
It did happen and, sitting in the dugout at the Leigh Sports Village in front of a pristine pitch, where Manchester United Women will play their home games, Greenwood looks relaxed in United training gear.
Stoney was keen to make Greenwood a figurehead of her team after the full-back had decided to leave Liverpool. At the start of last season expectations on Merseyside were high but the team failed to mount a title challenge. "I couldn't tell you why," she says. "We were very inconsistent, we leaked one too many goals in the bigger games. I think we massively underachieved for the quality we had in that squad and we all knew that."
But with plenty of options for the dynamic full-back, dropping into the Women's Championship with the relaunched United was not high on the wishlist until Stoney sat her down.
"I had some fantastic options, Casey being one of them, and I came here thinking I probably wouldn't sign," the 24-year-old says. "But I sat down with Casey and my decision was made literally within 30 minutes. Everything else was irrelevant."
What did her former teammate say? "She just hit the nail on the head with everything. Casey knows me, on and off the pitch, and she knows how to get the best out of me. She made it quite clear that she will take me to another level. She's delivered on everything she's said up to now and it's been unbelievable."
It was a bold decision in a World Cup year. Choosing to step down a division to lead United in their first season did leave her seeking assurances. "Obviously initially, before I signed, it was something I thought about. I had conversations with Phil [Neville, England Women's manager] and Casey to make sure this wouldn't affect my chances for England. I got Phil's backing 100%, he was honest with me and that's all I needed."
Greenwood is one of seven former Liverpool players recruited by Stoney, and they used to play together.
"I had so much respect for Casey as a player and that doesn't change as a manager. She's someone I always looked up to. I always knew in games I'd play with her she'd improve me," she says. "She's just gone from standing on the right side of me to standing on the left side of me.
"Casey hasn't changed, Casey will always expect high standards whether she's on the pitch with you or managing the team. She's a fantastic role model."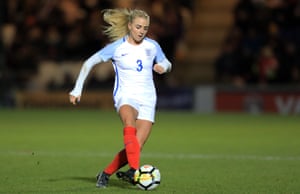 Stoney has handed Greenwood the captaincy. "I'm ready," says the left-back. "I think I've been through enough experiences to lead this team. It's an honour.
"It's quite a young group. They look up to me and Siobhan [Chamberlain], Amy [Turner] and so on. We've got a fantastic mixture of experience and youth in the group."
"Exciting", "unbelievable" and "crazy" crop up in almost every sentence from every player involved in the project and Greenwood says that while pre-season is intense, bonding has come surprisingly naturally. She says: "I feel like I've known this team for years. We've worked hard at that, though, we've had to do a lot of stuff away from the pitch. I feel like Casey and the staff have picked a fantastic bunch of players and we've all knitted really well."
For a player who doesn't switch off from football – the closest she comes to escaping the game is "maybe going for a coffee", where "I'll just end up talking football" – there is passion about the type of football the team wants to play.
"I think it's going to be exciting. We want to play the right way and do things properly, the Manchester United way, we'll go out to win games and with the ball on the floor. We've got a talented bunch."
Up first is the Continental Cup (League Cup) and a tasty opener away to Liverpool on Sunday at 2pm. They kick off in the league on 9 September at Aston Villa.
Source link