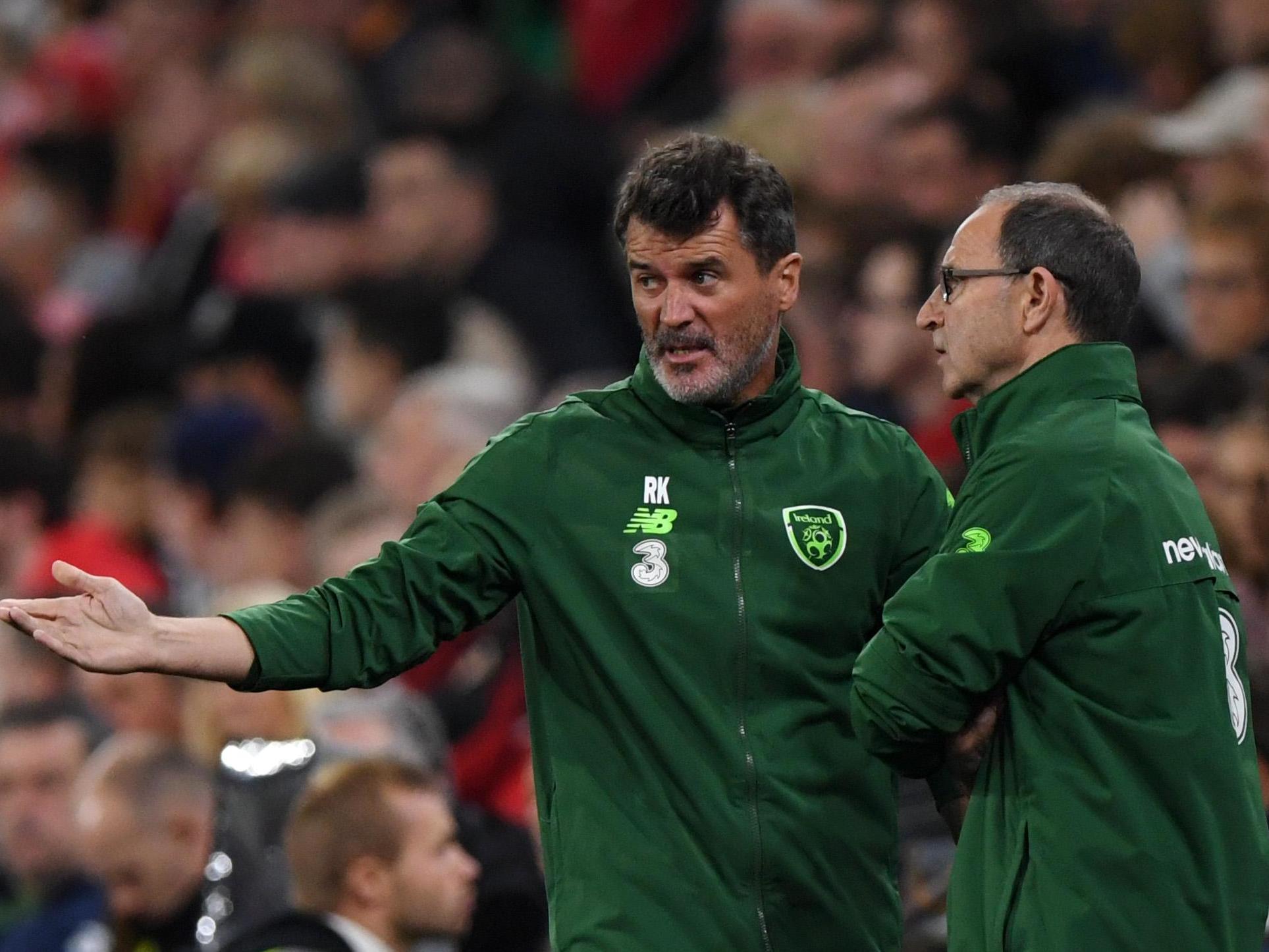 Martin O'Neill has accepted full responsibility for Roy Keane's clash with Republic of Ireland players Harry Arter and Jonathan Walters.
O'Neill found himself having to defend his "brilliant" assistant manager as they prepared for Tuesday's friendly in Poland after audio of defender Stephen Ward, outlining a version of the former Manchester United skipper's training ground altercation with the pair during the summer, was leaked.
The manager admitted last week that Arter's decision to make himself unavailable for Ireland could have been down to the row, but disputed the detail of the account provided by Ward – who was not there at the time – and launched a stout defence of his number two.
He said: "If you're asking about Roy's criticism of players, let me tell you this is my responsibility, totally my responsibility, absolutely and utterly.
"Every single kick players make, every save that is made, every corner that is conceded, every goal that is scored is my responsibility, so I'll take full responsibility for what has happened in this camp.
"At the end of it all I'm actually the manager. In my time as a manager, I've chosen two brilliant, brilliant assistant managers, two characters, two world-class players: John Robertson and the young man himself, Roy Keane.
"They're different, but at the end of it all, none of them have ever let me down. John Robertson criticised players; Roy has a different way.
"I take the responsibility for it at the end of the day because that's my job."
O'Neill once again denied that West Ham youngster Declan Rice's decision also to make himself unavailable this month, amid interest from England, had nothing to do with Keane, who is alleged to have questioned the players over sitting out training because of injury.
And while he admitted that football has changed since the days when he was regularly berated by Nottingham Forest boss Brian Clough, he said there was still a place for a heated exchange in the game.
O'Neill, who revealed he himself had a difference of opinion with midfielder David Meyler on Friday, said: "Sometimes I think while the game has changed a bit, hopefully it hasn't changed that much.
"There are some things you can say to a player, maybe using some industrial, heavy-duty language at the end of it all if you think they can actually take it and go out and prove the person wrong.
"I've tried to do it, reasonably successfully in my playing days when I was getting plenty of stick on a weekly basis.
"But at half-time in the European Cup final of 1980, when the same manager (Clough) who had been nagging me for a number of years on a daily basis to give me the sort of praise he gave me at half-time in the game was worth it, worth every minute of pain.
"But one of the greatest managers of all time, Sir Alex Ferguson, says he had to temper things he said. Some things he said in 1989, he would have had to think about, or change the wording, in 2000."
O'Neill dismissed the latest development in the saga as a "sideshow" and insisted it had not damaged morale as the Republic attempt to bounce back from Thursday's 4-1 Nations League drubbing in Wales.
He said: "These two confrontations took place four months ago, are surfacing now and we are going through all of that.
"And, you know what? I will be astonished if there is not a confrontation between now and November time."
He added with a smile: "If there is not, I'll start it myself.
PA
Follow the Independent Sport on Instagram here, for all of the best images, videos and stories from around the sporting world.