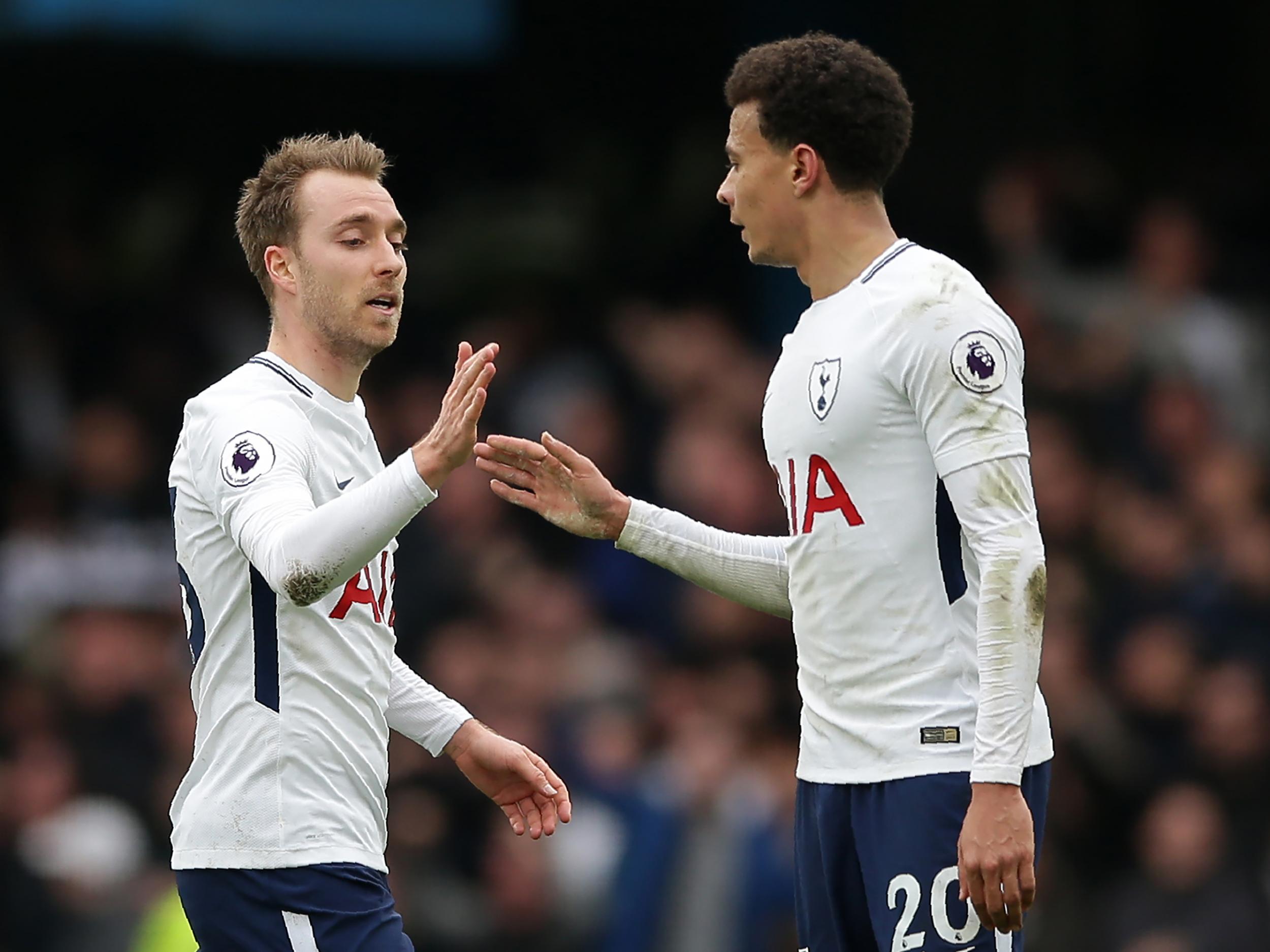 Tottenham Hotspur manager Mauricio Pochettino has revealed he is considering resting Christian Eriksen and Dele Alli at Crystal Palace on Saturday due to concerns over their ability to play for both club and country.
The pair have been included in international squads for Denmark and England respectively but Pochettino is keen not to overload them in the wake of 90 minutes for Spurs against PSV Eindhoven on Tuesday.
"We will see on Saturday, it was a tough game against PSV in the Champions League," he said. "Then they are going to move to the national team I think. It will be tough to play two games. 
"That is why we need to care and send them really fresh. That is why we are thinking if they are going to play or not against Palace."
It is the latest midfield dilemma for Pochettino on the back of the news that Mousa Dembele is now out until 2019 with right ankle ligament damage sustained at Wolverhampton Wanderers on Saturday.
"We hope that from the beginning of January he will be ready," said Pochettino. "After it's about the evolution, it's very dynamic the evolution and how he's going to recover.
"Always it's about the patient, the player, and how he's going to react after the injury. We hope he'll be back as soon as possible and early in January to help the team to win games.
"Always you miss all the players when they are injured. We were talking before, in 13 days we play five games. It's less than three days, every two and a half days we're competing. 
"It's a massive effort for the players. That is why I am so pleased. In the same way I want to say some nice words to the staff, because they are helping the players to be ready in every single game. They work a lot and they don't have rest. That is important have nice words for them. 
"Of course I think we have some players back like Eric Dier and Victor Wanyama, they've started training with the group and we'll see tomorrow if they can be available to be in the squad for Saturday. 
"Good news like Dele Alli and Christian Eriksen and building their fitness and can be more available for the team and increase the competition in the squad."
Tottenham still have concerns over left back Danny Rose with Pochettino revealing his groin problem will take a little while longer to settle down.
"I saw him this morning, I asked for his perfume because he has very good perfume," he joked. "It is good. He has very good taste about picking different perfume. We share taste. 
"It is a little bit longer than we expected, we will see if he will become available as soon as possible. We hope it will be after the international break, it might be difficult for the week after the international break but we will see. We will see what the evolution is, it may be a situation that can change quick and be positive."
Pochettino again insisted he was committed to Tottenham despite a continued link with the Real Madrid manager's position.
"Look I'm so focused on my job at Tottenham," he said. "Rumours appear every day. Some day it's the rumour you tell me now. Another is the opposite. 
"Many things happen. The most important thing that the people need to know is I'm focused on Tottenham. I'm so responsible with my job.
"Our fans need to know that and of course Daniel Levy needs to know that that I'm focused at Tottenham, working so hard to try to help the club to achieve all that we want."
Follow the Independent Sport on Instagram here, for all of the best images, videos and stories from around the sporting world.