A woman died and at least six people were injured when a crane collapsed on to an apartment building in Dallas amid severe thunderstorms early on Sunday afternoon.
Dallas Fire-Rescue spokesman Jason Evans told reporters first responders searching the Elan City Lights building found a woman inside an apartment who was later pronounced dead.
Two people were taken to hospital in critical condition and three were hospitalised in non-critical but serious condition, Evans said. One person sustained a minor injury and had already been discharged.
The names of the injured and the woman who died were not immediately available.
"We have some life-finding dogs on location," Evans said, "trying to help go inside some of the zones we're not sending first responders into."
On its website, the Elan City Lights is described as a "residence defined by breathtaking views, modern interiors, next-level amenities, personalized services and an unrivalled location".
Video shot by cellphone and posted to Twitter showed severe damage to a parking garage, cars piled on top of each other between collapsed floors, and firefighters escorting a stretcher out of the apartments building, in which a section of the top three floors had collapsed.
The crane fell as strong winds, heavy rain and hail battered parts of north Texas. The National Weather Service issued a severe thunderstorm watch for the greater Dallas/Fort Worth area until 7pm, warning of heavy rain, damaging gusts and large hail. It also issued a flood advisory for parts of the region until 5pm and said winds could exceed 70mph.
Among witnesses interviewed by the Dallas Morning News, Yesenia Bosquez said the crane crashed into her top-floor apartment. After an agonising wait that she said "felt like a year", authorities told her her husband was injured but had survived, holding on to the family dog.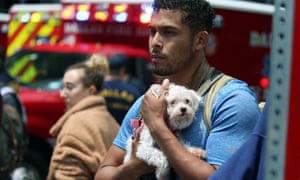 Another witness, Isaiah Allen, told the newspaper he was in his apartment when he head what he thought was a tremendous clap of thunder.
"I saw that the crane had actually fell straight through the building," he was quoted as saying, "and had destroyed a good eight to 10 apartments and so there's like floors and stuff falling through."
Allen told the newspaper he saw a bloodied woman trapped in a second-floor apartment.
"This is a really challenging situation," Evans told reporters, "in that I cannot personally recall that we've had a crane collapse involving an already inhabited building … much less an occupied residential five-storey high-rise building."
Evans could not say if construction work was going on at the time of the collapse.
"Our hearts go out to everyone who has been impacted by this incident," he said. "Our hope is that the damage that has been inflicted thus far is where it stops."