Richard Gere is having a baby! This is lovely not because the former Officer, Gentleman and Gigolo is 69 (it's not even old these days), but because of the way the announcement was made. On Instagram, duh, obviously. But it gets better because Gere's wife, the Spanish entrepreneur Alejandra Silva, 35, posted a picture of her and Richard AND the Dalai Flipping Lama. Richard has got a hold of Alejandra from behind, His Holiness has his hand on her bump, blessing it, or something. "We couldn't announce it before telling HH Dalai Lama," the latest incarnation of Mr Gere wrote.
Of course not. First, you've got to inform the spiritual leader of the people of Tibet and current manifestation of Avalokiteśvara, the Bodhisattva of Compassion; next, 35,000 Instagram followers; then, maybe, family and friends. That is the correct way to do things, ensuring that the yet-to-be-born child is already on the right path of spiritual development towards enlightenment, as well as getting plenty of media coverage. Maybe also a few more followers – for Mrs G, for HH himself. Everyone is happy and a state of continuous bliss can't be far away. Remember, next time you're expecting, to post that selfie with a major spiritual leader. The pope, Eileen Drewery (remember her – Glenn Hoddle's very own faith healer?), it doesn't matter; whoever fits in with your belief system.
On the subject of procreation, and old dads, and third wives, congratulations to Chris Evans (a mere boy of 52) and Natasha Shishmanian on the birth of their twins, Ping and Pong. Is that – those names – another example of the influence of eastern mysticism, perhaps? Or just a touch of 90s laddishness?
They were, apparently, known as Ping and Pong throughout the pregnancy, and there's nothing wrong with that; it's quite sweet, really. But he seems to be calling them that now they're out. "Ping popped her head out at 22:10, Pong popped his head out 12 minutes later at 22 minutes past 10," Evans's statement read. "Both healthy, both strong, happy and blessed, as was mum throughout."
BLESSED! See, he's there too, the Dalai Lama, at the Frimley Park Hospital in Surrey, I knew it. Just you try to keep HH away from a celebrity birth.
Make way for the Dyer dynasty? I should coco

Good news from the Dyer family. There could be a family docusoap in the pipeline. You know, a bit like the Kardashians, or probably more like the Osbournes, only a little more East End.
Lost in showbiz has been a massive  fan of Danny D ever since he did the greatest ever episode of Who Do You Think You Are? and discovered that he was a direct descendent of Thomas Cromwell (you know, 'im off of Wolf Hall), then Edward III, and then William the Conqueror himself. Hey, it doesn't matter that millions of us are direct descendents of William the Conqueror, don't spoil it.
And LiS has been a massive fan of Dani D since she showed, in winning Love Island, that there's still room for a bit of honesty and decency in this world.
"Yes, there's been talks, but we're gonna see," Dani confirmed. "It's one of them things that's just, like, once you commit, you commit." Unlike many of her fellow Love Islanders, Dani might actually know the meaning of commitment.
Potentially, this could happen some time next year, and LiS looks forward to a lively mix of colourful language, tanning and maybe a bit of genealogy, perhaps along the lines of:
DD: This is home, our manor.
DD: Imagine if there were aliens and they landed on Earth and this is what they found!
DD: Posh, innnit? Proper posh.
DD: It's all right, babe, he's made his cake. And now he's going to lie in it.
DD: Cako bako.
DD: Beep.
DD: Beep.
DD: ?!?!**
The woman with the golden touch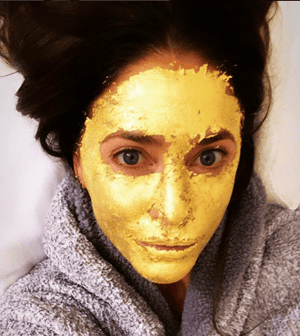 Back to Instagram (where else?) and Lisa Snowdon has been showing off an interesting new look. "Living my life like it [sic] GOLDEN! Had the most luxurious golden skin renewal facial yesterday," she wrote to her 196,000 followers. She got her boat (as Danny Dyer would say) gilded, wrapped in 24 carat gold. It is good for the skin, apparently, and makes it more elastic.
"More then [sic again] just a facial there was intense reiki healing that my body just couldn't get enough of, especially as I have been feeling under the weather this week … The Gold was then massaged into my skin using powerful pure plant placenta from EMK Rescue Serum …"
No, LiS isn't sure what EMK Rescue Serum is either and tends to switch off at any mention of the R word, reiki, on account of it being (as Danny might say) bollocks.
Danny might also say you need to be cako bako (come on, you know that one, it means very rich): the gold alone costs £160 for a 50ml bottle. On the plus side, though, you can, throughout the treatment, pretend you are Tutankhamun.