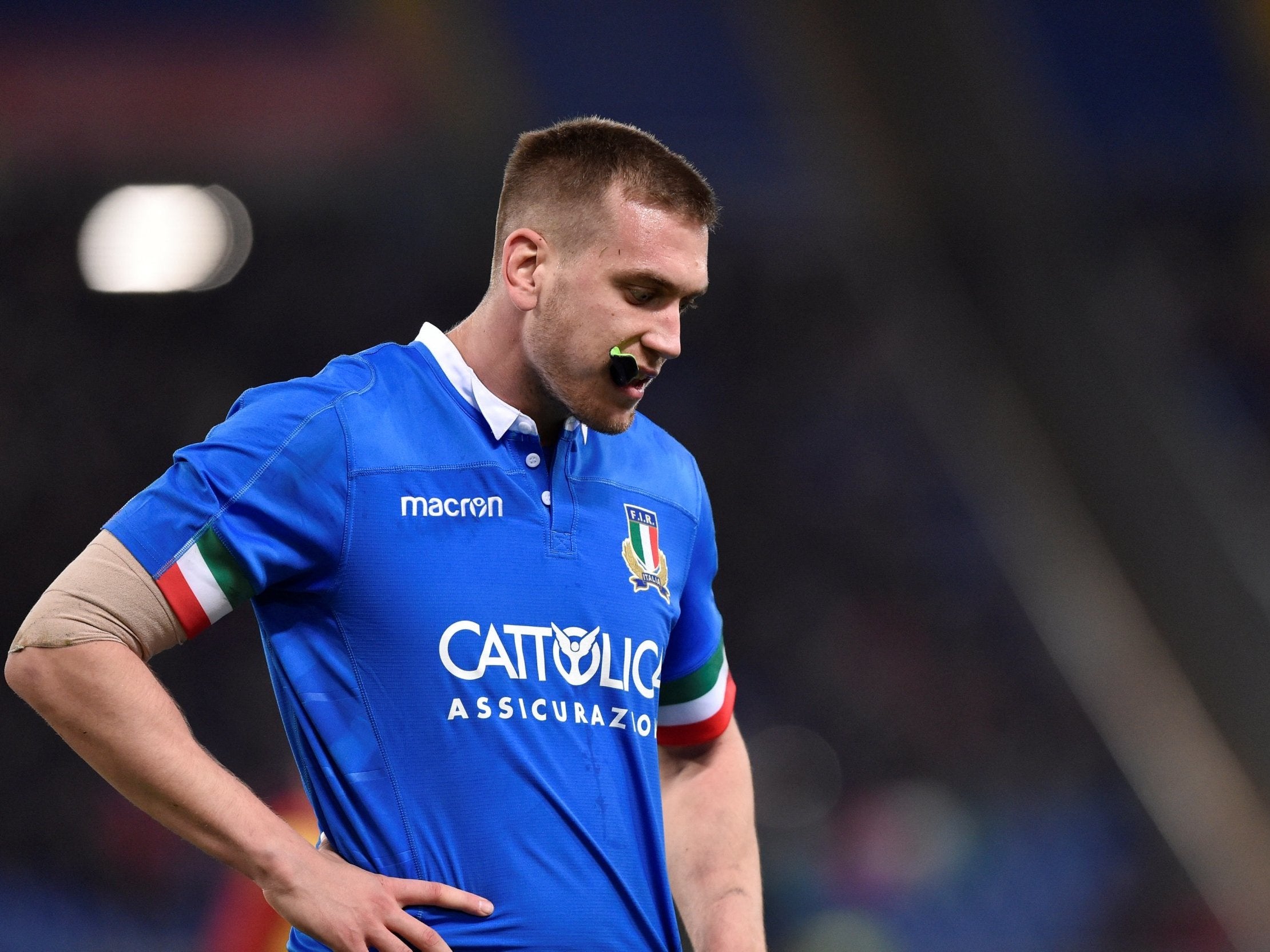 Here's a prediction; Italy will not win a game in this year's Six Nations.
Ok, as predictions go it's not an especially bold one but if you fancy something as close to a safe bet as it's possible to find in sport, lump every penny you have on the Azzurri making it three whitewashed Six Nations campaigns in succession under Conor O'Shea.
Because despite all the emotive post-match words and the bizarre sight of their players performing a lap of honour after recording their 19th, yes 19th, successive Six Nations loss, on Saturday's evidence Italy are in freefall.
Join Independent Minds
For exclusive articles, events and an advertising-free read for just
£5.99
€6.99
$9.99
a month
Get the best of The Independent
With an Independent Minds subscription for just
£5.99
€6.99
$9.99
a month
And perhaps worst of all, their dwindling band of fans know it.
Fewer than 38,000 people, at least half of them Welsh supporters, were inside the magnificent Stadio Olimpicio to watch Warren Gatland's below-par second-team cruise past the Azzurri with a great deal to spare.
It was not a gratifying spectacle.
These should be seriously worrying times for the Italian Rugby Federation who, like it or not, are only going to face more and more questions about their nation's absolute right to participate in the Six Nations unless their team start competing soon.
For the sake of this tournament, something needs to change. Because on all the relevant evidence the team who joined 20 years ago do not present serious opposition to the other five teams.
Thirty-three defeats in 34 games against tier one opposition suggests Italy are no longer worthy of permanent status at the top table. Georgia, or whoever wins the Europe Championship (the top national tournament outside the Six Nations), should at least be given the right to compete in a play-off game with whoever finishes bottom of the Six Nations. For the foreseeable future, barring the odd freak result, that will always be Italy.
If not, the tournament should be reduced back to it's former five-team status. At the very least that would provide a tiny bit of breathing space in rugby's horribly bloated calendar.
If Italy continue to stagnate, the Six Nations will lose credibility as every other team picks a second-team to face them, just as Wales did again on Saturday. Sooner rather than later fans will twig they are being conned and vote with their feet, just as Italy's did on Saturday. Perhaps when the bottom line is threatened, the suits will take action.
Unquestionably, Rome is a magnificent, beguiling, moody and historic city and losing it as an away trip would be a significant loss for travelling supporters. Let's not pretend Tblisi offers the same allure. Rome's food is magnificent, the history and majesty of the city unparalleled while witnessing the distain with which some of Alitalia's staff treat their paying customers really does need to be seen to be believed.
But in purely rugby terms, if they still count for anything, Italy have lost their case.
Every single English Premiership team, and most in the Pro14, would have beaten the Italian national team on Saturday and that is simply not the way it should be in a competition which must strive for continual improvement or risk losing its relevance.
No-one doubts the effort of Italy's players, the desire to be better or the willingness to learn, but the hard facts are now impossible to ignore. Italy are not good enough.
For all O'Shea's protestations, and goodness knows he is doing his absolute best, there is simply no evidence of progress. How many successive defeats are going to be needed for someone to say "enough is enough" Twenty? Thirty? Fifty?
Wales, showing 10 changes and with four players who had never previously started a Six Nations game, barely needed to be better than average to win 25-16.
The post-match mood was not lightened either by the strange decision by Italy's players to perform a lap of honour, or indeed by the sight of former Roma striker Francesco Totti performing household chores in an apron while advertising washing-up liquid on TV in the press room, as O'Shea conducted his media duties.
From an Italian perspective, it was pretty grim stuff. Scarily, this time next year they will almost certainly be without talismanic No 8 Sergio Parisse who has carried this team for well over a decade but who, at 35, is reaching the end. His heroic, magnificent career is not going to have a happy ending.
Edoardo Padovani's late try added gloss to the score-line on Saturday, just as the late rally against Scotland at Murrayfield the previous week provided false hope.
But with games against France, Ireland and England to come, Italy have missed their two best chances of face-saving victories in this year's competition and yet another whitewash now appears inevitable. They are the tournament's perennial whipping boys.
For Wales, much more reason to be cheerful. They were not very good on Saturday but were still far too good for Italy.
Their fans were unimpressed but coach Warren Gatland was playing the long game and finding out more about his squad by rotating his squad ahead of the World Cup. They have won 10 games in succession and deserve the plaudits for learning to win consistently, even if it was "ugly" as Gatland admitted on Saturday.
Wales will be much better against England because can have to be and can be. Italy, on the other hand, despite some improvements from their two regions in the Pro14, are only going in one direction.
It is time for us all to face up to fact Italy are no longer worthy of a Six Nations spot.
QBE Insurance helps businesses, from start-ups and SMEs to multinationals, to identify, manage and insure their risks. For more information go to qbeeurope.com
Source link